Our commitment
One pillar of our commitment to sustainability is the selection of materials we use. For example, we print exclusively on materials made from organically grown cotton and sustainably certified fabrics (GOTS-Global Organic Textile Standard). Our printing inks also meet these strict ecological standards and are certified for sustainable production. Thus, we ensure that the strictest ecological and social standards are applied from the cultivation of the cotton to the production of the fabric.

We use only OEKO-TEX 100 certified fabrics in our production, ensuring that they are free of harmful chemicals and pesticides. Our rigorous raw material selection supports sustainable farming practices, social justice, and products that are safe for health. Not only does this help the environment, but all involved production facilities benefit.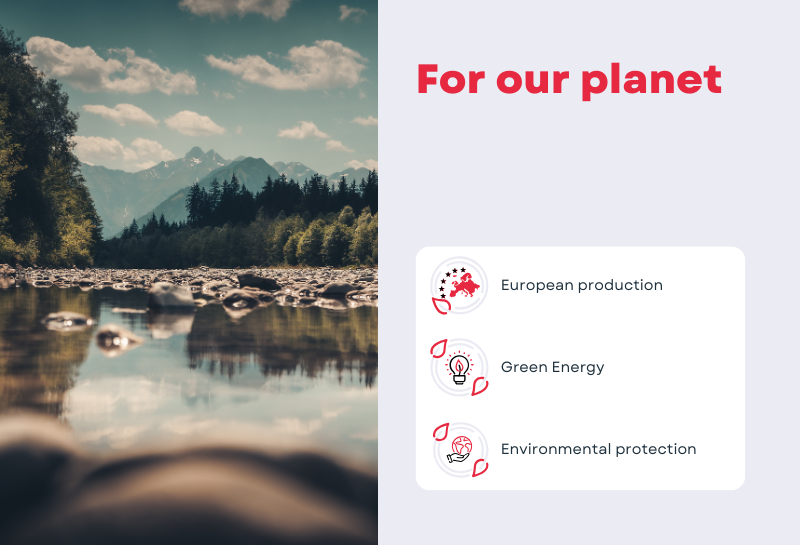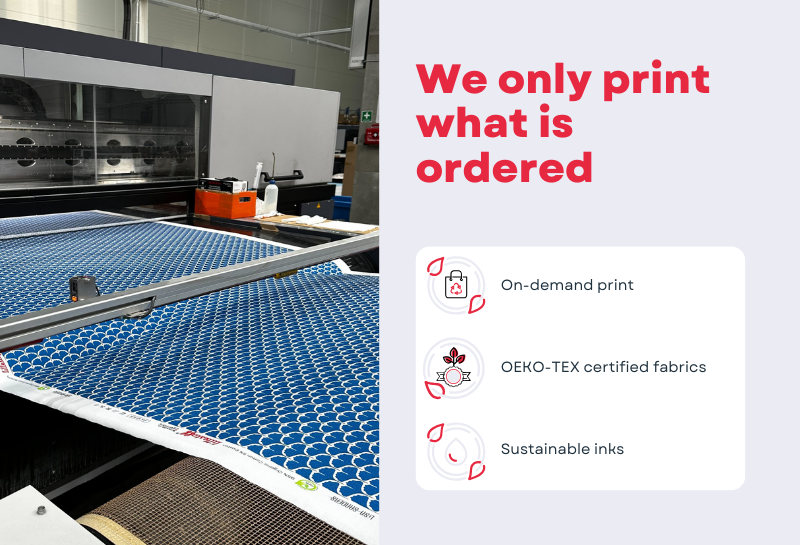 Print-on-Demand
To print our designs, the latest technology is used. The printer has a capacity of 1450 square meters per hour, more efficient than traditional printing methods and without compromising on quality. With this state-of-the-art equipment, we deliver vibrant, detailed, and true-color prints that showcase the designs perfectly. We print on-demand, which means we print only after we receive your order, so we operate without inventory and only print the quantity you order.
It's not just the printing process itself that's sustainable. The eco-friendly inks we use also fit seamlessly into our concept of eco-friendly production. Our choice of ink greatly minimizes our environmental footprint by reducing the release of harmful chemicals into the environment. In addition, the so-called pigment printing ensures that the colors retain their vibrancy for a long time. By avoiding harmful chemicals, our products are also suitable for sensitive skin types - including children and allergy sufferers.

Delivery & Packaging
We print our fabrics exclusively in Europe and keep delivery distances short in order to additionally protect the environment. In this way, we reduce transport emissions and also support the local economy. This decision enables us to implement strict quality controls while maintaining sustainable partnerships with European suppliers who share our values.
We work almost exclusively with packaging made with recycled materials and reduce plastic consumption where we can. All orders are packaged plastic-free and the cardboard boxes we use can be recycled.
Join us on this our way to a better future - hand in hand and sustainable with style.